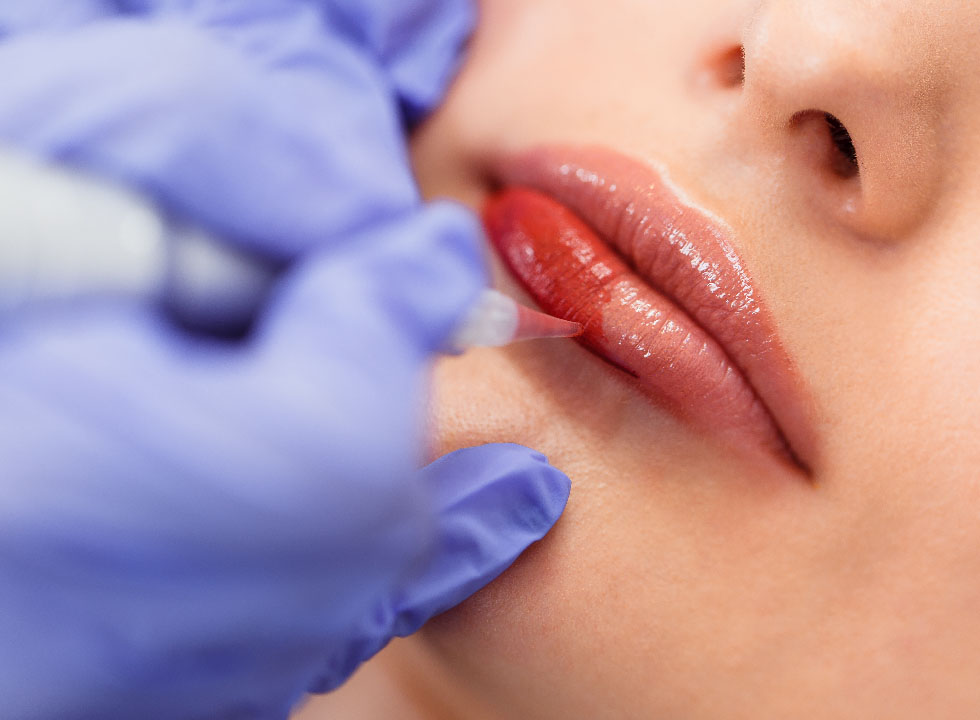 Marketing strategies are essential for every industry to expand its business. Permanent makeup is not an exception in this issue, mainly after the Covid-19 pandemic, which causes this business to be damaged deeply. Therefore, now is an appropriate time to determine top marketing plans to market your permanent makeup in 2021. So, follow this blog by PurpleZ, one of the best digital marketing agencies in Orange County and Los Angeles, to know the mentioned business plans.
First, let's take a brief look into the concept of permanent makeup.
Practical sales and marketing strategies 
What Does Permanent Makeup Mean?
Permanent makeup, also called cosmetic makeup, means a form of makeup that stays for a more considerable time. Indeed, makeup artists insert small amounts of mineral pigments into customers' skin using needles at a high-speed. This type of makeup can be useful for several reasons, such as beauty or medical ones.
Types of Permanent Makeup
There are a variety of permanent makeup services for those who are looking forward to it. But, these are the most famous ones among clients in Orange County.
Microblading
Lip Blushing
Permanent Eyeliner
Scar Camouflage
Freckle Tattoos
Blush
Scalp Micropigmentation
Skin Camouflage
Ombré Brows
Benefit from these services in Paris Permanent Makeup
How Much a Permanent Makeup Artist can earn in Orange County in 2021?
According to a study on January 22, 2021, permanent makeup earns $82,767 per year in California, which means approximately $39.79 an hour.
ZipRecruiter clarified the range of payments from $390,784 to $17,696. Most of the permanent makeup artists earn about $33,917 to $68,325 annually in this specific area.
Top Business Strategies for Every Permanent Makeup in 2021 in Orange County
The first apparent steps you, as a permanent makeup artist, must take are:
Create a strong brand strategy.
Get insurance.
Get a license.
Buy reputable and trustworthy products.
Get the right cosmetic equipment.
Apart from these significant steps, it would be best to market your business with the best marketing plans.
1-Creating an Appealing Website for Your Permanent Makeup
Web design is essential for growing your permanent makeup. Before going into other marketing strategies, you have to consider this plan as your main priority. Your website should be easy to follow to let your audience find your previous works, location, and number easily. Indeed, your website is the perfect place to display the most critical information.
If your potential customers find you professional by visiting your business, you will have more chances to gain new clients.
Writing blogs and articles about various permanent makeup topics are necessary for 2021 to allow your audience to trust you and build valuable relationships with your clients. Content marketing also helps boost your ranking, leads and increase backlinks.
Although valuable content involves the brand and its products and service features, it should be useful and entertaining to encourage people to read it and convert them into your customers.
The most important element you should apply to your content is:
SEO (Search Engine Optimization) for Every Makeup Business
SEO is a type of practice to make alterations to your website content. Applying SEO techniques such as organized structure, keywords allows you to be on top SERP (Search Engine Results Page) on various search engines. Your website traffic will also increase, which is practical to grow your business.
Professional experts are ready to help you apply SEO 
3-Social Media Marketing for Permanent Makeup
As you may almost know, social media platforms are the best opportunities to advertise every business in today's world. Social media is great for finding potential customers for your permanent makeup and introduce products and services to the public. They are also free, making it the first marketing strategy for managers who just started a company.
The best Platforms are Facebook, Instagram, Pinterest, Twitter, YouTube. You should always be active on these platforms and ask your clients to tag and share them with others. Social media allows you to improve your permanent makeup fast without making a lot of effort. Paris Permanent Makeup Instagram
Read more about social marketing 
Influencer Marketing for Growing Your Permanent Makeup Business
You can use famous people on social media platforms to increase leads and views like models, celebrities, or even other makeup artists. It may cost you a fortune to ask from a famous influencer, but you can consider influential people with less popularity.
Learn about other digital marketing strategies 
4-Video Marketing for Attracting Audience to Your Cosmetic industry
Creating valuable videos and photos is another great idea to promote your permanent makeup when you put them on the website, social media platforms. You must show your projects and jobs on these platforms; otherwise, people may not trust you.
Consider posting your previous projects in the form of before and after posts, showing your place, advantages of choosing you with visuals.
5-Referral Marketing to Increase Your clients in Permanent Makeup
Referral marketing means using your features to grow your customer base by your existing clients. Word of mouth means attending a webinar, seminar, or event related to your business, which would cause you to have increased brand awareness and gain new clients. For example, joining permanent makeup academies, training courses are great ideas. Click here to join Paris Permanent Makeup Academy.
Entice your present clients to introduce you to others by giving them rewards is another great plan in this strategy.
For example:
Reasonable off on your first appointments.
Offer your clients gifts or discounts to talk about your brand with their friends and families.
Extra Tips for Permanent Makeup in 2021
Since Corona Virus has come, our lives have completely changed. You, as artists in permanent makeup, should apply practical ways to market your business in this challenging year. Methods of enticing people in the covid-19 pandemic are:
Offer online training.
Change your service strategy.
Be present, don't disappear.
Start a youtube channel or improve it.
Provide much useful content to instruct people.
In conclusion:
There you are! The best marketing strategies for permanent makeup in 2021 in Orange County.
Website, Content, Social Media, Video Marketing, and Referral Marketing are the most practical plans to develop your business.
Also, regarding the tips to benefit from the situation Corona Virus has caused.
Was this blog useful for you? Let us know. 
Click here to see other PurpleZ services